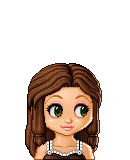 Adriana Lony
Name: Adriana Lony
Age: 15
Gender: Female
District: 3
Weapons: Throwing Knives
Strengths: Nimble, Quick-Witted
Weaknesses: Brute Strength, Long-Range Combat
Backstory: Adriana grew up in a small neighborhood in the corner of District 3 bordering District 2. She often crossed the border and watched the activity at the Nut. District 3 was always boring to her, and District 2 was so exciting. Adriana wants to win the Hunger Games and move to District 2.
Personality: Brave, Intelligent, Soft-Spoken, Quiet
Fears: Getting caught in District 2
Token: District 2 brochure
Games
Participated In: 166th Hunger Games
Author: The Boy With The Pikachu Tattoo
Final Placement: 21st Place
Total Tributes: 24
Allies: None
Killed: None
Killed by: Kacey Smith
Description: Adriana was beheaded by Kacey Smith shortly after the bloodbath started.
Community content is available under
CC-BY-SA
unless otherwise noted.