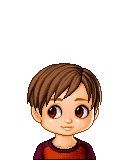 Alex Fillie
Name: Alex Fillie
Age: 15
Gender: Male
District: 5
Weapons: Sword
Strengths: Brute Strength, Likeable
Weaknesses: Running, Tree Climbing
Backstory: Alex was always the laughing stock of District 5. They always made fun of him for being fat and lazy, but it wasn't his fault. He has a thyroid problem that makes it hard to lose weight. He is a very hard worker and loves sword fighting. He is really strong and doesn't have many friends.
Personality: Quiet, Kind, Sad, Lonely
Fears: Dying alone
Token: Blade of grass from backyard
Games
Participated In: 121st Hunger Games
Author: Jsm13athome
Final Placement: 9th Place
Total Tributes: 26
Allies: Garnet Wilke, Amethyst DeMoir, Aldo Gambetti, Demetria Callitor, Adian Menaly, Logan Blue, Misty Blue, Royce Deneath
Killed: Destine Stardust
Killed by: Lucifer Fingal
Description: Alex joined the Careers for the bloodbath. He and the other Careers made camp on the cruise ship, only losing Amethyst in the bloodbath. Soon, they got jealous of Alex and Aldo because of their sponsor gifts. Alex and Aldo separated from the Careers, and the other Careers self-destructed. When Aldo and Alex were hiding in coffins during the storm, Lucifer opened them up and killed Alex, placing him 9th out of 26.
Community content is available under
CC-BY-SA
unless otherwise noted.