Info
District: 10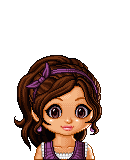 District Partner: Everest Strong
Age: 15
Weapon: Pitchfork, knife.
Skills: Amanda is like the animal whisperer. She can calm any animal down and tame it. Amanda is also skilled with a pitchfork and knife. Amanda is strong from years working on a ranch and knows what plants are safe to eat by testing it out on some cattle.
Strategy: Amanda plans to flee the cornucopia after grabbing the closest things to her plate. After that she'll try to find some animals to tame/ride to make up for her lack of speed. Set up camp as far away from the cornucopia as possible and make sure no one finds her by making fires only at sunset, making little/no noise and finding a concled spot.
Token: None
Weaknesses: Slow runner.
Quote: None
Personality: Calm, kind, carefull, cautous. Smart, likes to take things slow. Wise.
History: Amanda works at a ranch where she rides horses everyday, amanda has alove for animals and sometimes lets a few livestock escape the day before slaughter. Amanda also worked with a pitchfork by moving hay. Amanda sometimes tested out plants she found i nthe woods on animals to see if they were safe to eat. She is an only child but is not spoiled.