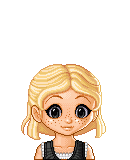 Aria Velinose
Name: Aria Velinose
Age: 15
Gender: Female
District: 3
Weapons: Knife, Snares
Strengths: Intelligence, Hiding
Weaknesses: Brute Strength, Swimming
Backstory: Aria was always a quiet kid. She never had much confidence in her self and she never really had friends. In school, she would sit alone in the back of the classroom and work on projects by herself. She always got A pluses because she's brilliant.
Personality: Shy, Quiet, Smart, Timid
Fears: Public Speaking
Token: Piece of wire
Games
Participated In: 90th Hunger Games
Author: Jsm13athome
Final Placement: 21st Place
Total Tributes: 26
Allies: Alonzo Mourning
Killed: None
Killed by: Quicksand
Description: Aria and her ally Alonzo Mourning made it out of the bloodbath unscathed with weapons. As they were crossing the desert, the duo fell in quicksand. Alonzo got out of it, and as he was pulling Aria up, he fainted. Aria then died because she had nothing to hold on to.
Community content is available under
CC-BY-SA
unless otherwise noted.