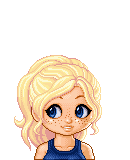 Aura Porrine
Name: Aura Porrine
Age: 16
Gender: Female
District: 6
Weapons: Sword
Strengths: Brute Strength, Running
Weaknesses: Hiding, Swimming
Backstory: Aura has always been one of the more athletic girls. She has never worn makeup, or dresses, or anything girly like that. She is friends with mostly boys, but she sometimes wishes she was more girly so they wouldn't just consider her as "one of the guys". She is actually very pretty, but she doesn't try to impress anyone. Aura is also very fast and nimble. She can run and climb faster than anyone, and her sword skills aren't half bad.
Personality: Strong, Athletic, Funny, Easy-Going
Fears: Not being girly enough for guys to like her
Token: Anklet from friend
Community content is available under
CC-BY-SA
unless otherwise noted.