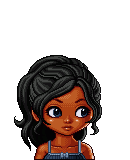 Berit Forne
Name: Berit Forne
Age: 14
Gender: Female
District: 11
Weapons: Awl
Strengths: Running, Climbing Trees
Weaknesses: Swimming, Trusting Others
Backstory: Berit had a terrible childhood. She was born as the youngest of eleven children, and most of her siblings died of malnutrition while growing up. She only had two brothers left, and they were much older than her and had already moved out of her parent's house. Growing up, Berit was abused and still has many of the scars. Her father is an alcoholic and her mother has anger management problems. She has learned not to trust anyone, since the only people she was supposed to love beat and abused her. Berit volunteers for the Games because she can't bear to live one more day with her parents. She hopes to win the Games and live alone in the Victor's Village.
Personality: Cold, Distant, Quiet
Fears: Her parents, abuse
Token: Piece of cloth from home
Games
Participated In: 173rd Hunger Games
Author: Foxfacedfanatic
Final Placement: 4th Place
Total Tributes: 28
Allies: Serina Frostwords
Killed: Scott Jameison
Killed by: Gabrielle Beets
Description: Berit escaped from the bloodbath and entered a cave. She allied with Serina Frostwords when she approached Berit's cave, and the two remained there for most of the Games. Serina was the only person Berit ever trusted in her life. Berit killed Scott Jameison when he tried to enter their cave, and helped Serina in various ways. In the final battle, Berit was speared by Gabrielle Beets. Serina went on to be co-victor with Brie Stevens of District 7. Serina opened up a store named after Berit called Berit's Boutique.
Community content is available under
CC-BY-SA
unless otherwise noted.