Info
District: 4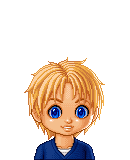 District Partner: Aquamarine Summerton or Oceania Waves or Ronda Grouge (Before she was retired).
Age: 18
Weapons: Trident, net, knife, mace, sword, spear.
Skills: Coming from District 4 Blue is skilled with a trident, nets and is a good swimmer. Blue's also physically fit and is a good fighter in hand-to-hand. In Career training blue mastered the art of throwing knives, wielding a sword, mace, spear... etc. etc.
Strategy: Career pack member. Try to earn sponsors in any way possible. Be in the background of Career fighting as to not be killed or make any strong enemies.
Token: None
Weaknesses: Over confident. Doesn't know how to be hungry.
Personality: Smart, overconfident, cocky, mean but tries to be nice. Treats the games like a joke and he knows he's going to win.
History: Blue became confident since he was six, He saved an entire family that was stuck on the roof of their house during a flood by by swimming with them on his back and took them to safety. He was given awards for his heroism. After that he trained for the games under Aquamarine's Dad and quickly became his star pupil. His family consists of; Dad: Stephen, fisherman, Mom; Kirina was killed when her anti-capitol crowd was shot at by peacekeepers.