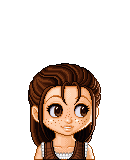 Brie Stevens
Name: Brie Stevens
Age: 18
Gender: Female
District: 7
Weapons: Axe, Throwing Axe
Strengths: Brute Strength, Making Alliances
Weaknesses: Swimming, Agility
Backstory: Brie grew up in a poor family, but her parents were still generous people. They devoted their time to volunteer work, which was mostly cutting down trees to build housing for the poor. Brie has learned to be selfless and she has also perfected her axe skills. Brie's brother was reaped a few years ago, and died in the bloodbath. Her parents fell into a depression and were bedridden for months. Brie has taken care of them ever since and wants to get back to them at all costs.
Personality: Kind, Happy, Generous, Cute
Fears: Dying and leaving parents alone
Token: Bracelet made by brother
Games
Participated In: 173rd Hunger Games
Author: Foxfacedfanatic
Final Placement: 1st Place
Total Tributes: 28
Allies: Gabrielle Beets, Tommy Lohter
Killed: Tristan Kirp, Elliot Ryan
Killed by: None
Description: Brie killed Tristan Kirp in the bloodbath and escaped with her life, allying with Gabrielle Beets and Tommy Lohter in the process. After Tommy was killed by Isa Guard, Gabrielle and Brie got closer and stuck together until the end. The duo became the fiercest tributes in the arena, and in the final battle against Elliot Ryan, Berit Forne, and Serina Frostwords, Brie killed Elliot and Gabrielle killed Berit. Serina then killed Gabrielle, sounding the trumpets and making Brie and Serina the victors.
Community content is available under
CC-BY-SA
unless otherwise noted.