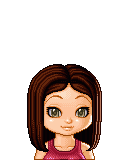 Camilla Averson
Name: Camilla Averson
Age: 17
Gender: Female
District: 5
Weapons: Sword
Strengths: Hand-to-Hand Combat, Intelligence
Weaknesses: Short-Tempered, Too Emotional
Backstory: Camilla was the middle child of three children. Her brothers used to bother her purposely just so she would blow up on them and get really angry. Camilla has a very short fuse and will go ballistic if someone sets her off. She cannot keep control of her emotions, but is very intelligent.
Personality: Mean, Irritable, Know-It-All
Fears: Going Insane
Token: Little stuffed bear from home
Games
Participated In: 90th Hunger Games
Author: Jsm13athome
Final Placement: 1st Place
Total Tributes: 26
Allies: None
Killed: Malecai Gerama
Killed by: None
Description: Camilla hid from most of the other tributes during the Games and never made a direct kill. She never allied with anyone, and when it came down to the final two, Camilla sprayed a skunk mutt at her opponent, Malecai Gerama, winning the Games.
Community content is available under
CC-BY-SA
unless otherwise noted.