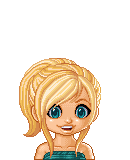 Carmina Florance
Name: Carmina Florance
Age: 16
Gender: Female
District: 6
Weapons: Mace
Strengths: Tree Climbing, Brute Strength
Weaknesses: Running, Swimming
Backstory: Carmina and her family own a car manufacturing company. She was very wealthy growing up, and her parents rarely spent time with her. They were always working with the car company. This made Carmina very mean and distant to those around her.
Personality: Cocky, Overconfident, Stubborn, Mean
Fears: Being tortured
Token: None
Games
Participated In: 100th Hunger Games
Author: District3 luv
Final Placement: 1st Place
Total Tributes: 24
Allies: None
Killed: Kelsey Parker, Alice Marsop, Icica Jewel
Killed by: None
Description: Carmina stayed in the oasis for nearly the whole length of the Games. She killed Kelsey Parker during the bloodbath, and Alice Marsop in the oasis when Mina, Cassie, and Alice wandered into her campsite. Then, in the final battle, Carmina arrived late and killed Icica Jewel to win the Games.
Community content is available under
CC-BY-SA
unless otherwise noted.