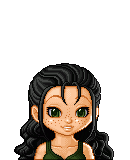 Cassy Coolidge
Name: Cassy Coolidge
Age: 14
Gender: Female
District: 9
Weapons: Knife, Blowgun
Strengths: Running, Climbing Trees
Weaknesses: Brute Strength, Swimming
Backstory: Cassy was always mature for her age. She didn't have many friends because she didn't really fit in with the people her age. While they were into gossip and makeup, Cassy was interested in math and science. She wasn't a geek, because she trained with weapons in her spare time, but she was well, different.
Personality: Mysterious, Intellectual, Mature, Easy-Going
Fears: Claustrophobia
Token: Ring from mother
Games
Participated In: The First Annual Opponent Games
Author: Mysims
Final Placement: 2nd Place
Total Tributes: 28
Allies: Asper Dell, Bethany Wakeling
Killed: Ridge Yarn, Niteo Laurelo
Killed by: Maroon Cutter
Description: Cassy killed Ridge Yarn in the first Opponent Round, where she completely dominated him in an arena where you could only see with your eyes closed. She didn't even get injured from the fight. In the second Opponent Round, Cassy dominated her opponent yet again, this time being Niteo "Night" Laurelo. After passing the two opponent rounds, Cassy is placed in the Games for real, where she allies with her closest friend Bethany Wakeling and her crush Asper Dell. Cassy, Bethany, and Asper stuck together until the very end. During the final battle, Bethany was killed by Skylar Bluewave, who died shortly before her. It was down to Asper, Cassy, and Maroon Cutter from District 1. After a long, brutal battle, which included Cassy's shield getting disintegrated, Maroon stuck an arrow in Cassy's lung. She fell to the ground, but was not dead yet. Asper killed Maroon out of rage and ran over to the dying Cassy. She told him to live life to the fullest, and the two kissed until Cassy died. Asper later named his daughter Cassy in her memory.
Community content is available under
CC-BY-SA
unless otherwise noted.