Info
District: 5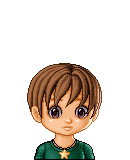 District Partner: Adenine "Addie" Boulvie
Age: 15
Weapon: Knife, sword
Skills: Cytosine is a fast tribute and he's strong. Cytosine can climb cliffs and is decent at swimming. Cytosine can also wield a knife and will learn how to use a sword, identify edible plants and set up snares in training.
Strategy: Run from the cornucopia but hide just in a good hidding spot so he can spy of the horn. If Addie is a Career: Steal the supplies while the Careers are out hunting then stalk them as to see what Addie is doing. IF ADDIE IS NOT A CAREER: Try to join Addie's group if they don't let him, stalk Addie and her group to see what theya re up to, try to find out Addie's secret.
Token: Star neckless shown in the lunaii above.
Weaknesses: Really wants to find out what Addie's secret is. "Curiosity killed the cat"
Quote: None
Personality: Calm, nice, cool in a fight, not overconfident. Carefull
History: Lived with a rich family, his Dad works as a top scientist at the genetic labrotory while his Mom is the myor. He has a lot of friends. He's heard rumors about Addie and sometimes spies on her to find out what's wrong with her.
Trivia
This tribute originally had a crush on Addie.
Community content is available under
CC-BY-SA
unless otherwise noted.