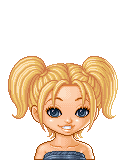 Daisy Teflon
Name: Daisy Teflon
Age: 12
Gender: Female
District: 8
Weapons: Knife
Strengths: Hiding, Tree Climbing
Weaknesses: Fighting, Swimming
Backstory: Daisy grew up in the slums of District 8. She lived in the basement of a factory illegally with her father and had a tough life on the streets. However, Daisy is still an upbeat person despite her hard, poverty-stricken life. She is very kind and sweet, and will do anything for her father. She wants to win the Games so she can give her father the life he deserves.
Personality: Nice, Bubbly, Spirited, Peppy
Fears: Rats
Token: Gear from factory basement
Community content is available under
CC-BY-SA
unless otherwise noted.