Info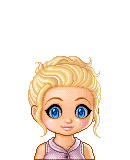 VICTOR!!!
District 12
District Partner: Mike Wear or Rick Patterson
Age: 14
Weapons: Knife and bow and arrow.
Skills: Really fast runner, smart, good at making alliances, wielding a knife, identifiying plants and animals. Can use a bow and arrow. Good at climbing and swimming too.
Strategy: Team up with a few trustworthy people. Only grab supplies close to her a the cornucopia. Hunt and forge so she doens't become dependant on her supplies that she got at the cornucopia. Also be very sneaky so the Careers don't find her.
Token: A small wooden figuine.
Weaknesses: Weak, not good at close range besides with a knife.
Quote: None
History: Born into one of the wealthy families in 12. Her family runs a bakery. She loves helping other people and values life. One day one of her friends who is poor (Houston) took her into the woods with him and taught her how to forge and hunt. Everyday after school she wnet and did that to give food to his family and to other poor families.
Personality: Kind, giving, not-afraid-of-getting-dirty, strong, brave, loving.
Victor
Games: Tommyboy97's Fourth Annual Hunger Games