Tribute of Kaeghan-is-a-Tribute
Devi Sunshine is District Partners with Seedum Plant
Information
Name: Devi Sunshine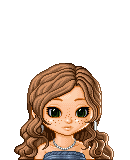 District: 5
Age: 13
Height: 5'3
Weapon: Devi prefurs using Long Knives but she also can use a Sword or a good Slingshot
Strengths: Devi has quite a bit of strengths. Devi has a great personality, which she can use to get sponsors. Devi is also a good swimmer, even though she comes from District 5, she is a very good wimmer due to the pond in her garden. Devi is also good plants, she knows if they are poisunous or not and she can tell if they are edible.
Weaknesses: Devi isn't a very good climber since she never learned. Also Devi isn't the fastest runner or the strongest person out there, but she isn't horribly slow or weak.
Personality: Devi is one of those people who never stop smiling, Devi is so kind and never thinks twice about helping somebody out. Devi also is very humble and has learned that she should always be thankful and that the bigger the storm is that a beautiful rainbow will manage to appear at the end.
Backstory: Devi grew up in District 5, her father is the mayor of District 5 and her mother is a succesful flourist. Devi's family isn't poor, far from it actually, probably the richest family in five. Devi aswell as her two younger sisters Joyce and Greeda, always help there mother in her flower shop just off the back of there house. Devi's mother grows a variety of plants, land or water. To sustain the water plants Devi's mother has a pond in the backyard where Devi likes to swim, she would swim in it all day if she could, but the reality is that she can't.Devi was lucky enough to not have to rake tesserae, but she was chosen anyway, with only having 2 slips in the reaping bowl.
Strategy: Hide, somwhere plentiful of water and not a lot of trees.
Community content is available under
CC-BY-SA
unless otherwise noted.