Info
Extra: If in the same games with Spring Howards she will fall in love with her.
District: 8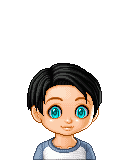 District Partner: Raquel Numez
Age:12
Weapon: Knife, throwing knives.
Skills: Down can wield a knife and wil ltry to learn to thorw them during training. Down is also a fas trunner and can climb trees. Down can also weave and is a hard worker. He's nice so he can probably earn some sponsers and can make allies. Used to being hungry.
Strategy: Ally with one or two trustworthy people and break it off at final 5. Be carefull to avoid Careers and his District partner (not because she's a threat, just because he thinks she's a freak). Be resoucreful and make as much supplies by hand as possible.
Token: None
Weaknesses: Not that strong of a fighter.
Quote: None
Personality: Nice, trustworthy, kind. Smart, witty. Funny.
History: Down has worked at a textile factory since he was at age 5. He has a mom and a dad who work must of the day, so Down is often lonely. He has a few good friends who work a lot too. He tries to be nice to everyone. Down works in a factory himself and is ahrad worker. He secretly hates the Capitol.
Community content is available under
CC-BY-SA
unless otherwise noted.