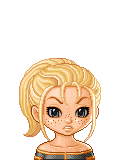 Elena Horisson
Name: Elena Horisson
Age: 16
Gender: Female
District: 4
Weapons: Spear, Mace
Strengths: Heartless, Acting
Weaknesses: Can't make friends, Hiding
Backstory: No one really knows why Elena is as cold, evil, and heartless as she is. She had a normal, loving family while growing up and never experienced anything too traumatic. Elena simply enjoys killing and hurting others, and she has no emotional connection to anyone.
Personality: Cold, Evil, Mean, Intelligent
Fears: None
Token: Devil pin
Games
Participated In: 100th Hunger Games
Author: Jsm13athome
Final Placement: 5th
Total Tributes: 52
Allies: Norman Jacobe, Jennifer Vanle, Chase Amos, Emerald Silvers, Gavin Fremie, Misty Korna, Justinain Bemus, Bianca Rose, Landon Granger, Evan Long, Aqua Lyons
Killed: Tanya Verule, Melissa Clover, Blaze Seeth, Serene Viola, Grayson Smith, Reggie Miller
Killed by: Heat (Suicide)
Description: Elena was the fiercest tribute in the Games, attaining the most kills and the support of the audience. She did the necessary things to survive in the Games, such as pretend to be sick when chained down, turn on a fellow Career, and kill small children. In the end, however, Elena realized how cruel of a human being she really was, and sacrificed her own life to save Marine Hier, who had a broken ankle, by pulling her into the Victor's dome before it closed. This trapped Elena outside of the dome and the arena heated up, burning Elena and placing her fifth, one spot away from victor.
Community content is available under
CC-BY-SA
unless otherwise noted.