Evan Petroleum is a male tribute from District 5. He is owned by John(LivesInDistrict1) and can not be used with out my permission.
Main Information
Name: Evan Petroleum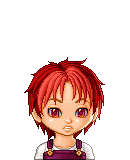 Age: 17
District: 5
Gender: Male
Weapons: Sword, but will try to learn other weapons in training.
Strenghts: Electronic Skills, Survival Skills, Stealth, Smarts
Weaknesses: Speed, Strength, Swimming
Personality: Evan is determined to acheive his goals, and, just like any other person in district 5, he hoped that he is spared the horrible fate of being reaped for the hunger games. He is a kind of person who opens up once you get to know him, because he can be shy at first, especially around girls. His favourite colour is red and he hates blue, so he hates water. He is a Foxface admirer and a fox expert.
Backstory: Evan worked in a power plant. He has a book in his home of all of the district 5 tributes of the past, and the one who stood out to him the most was Foxface. He admired her stealth and foxy ways, so he dressed as a fox for halloween. He started to admire foxes, and became somewhat of an expert on them. He died his hair red and got red overalls to look the part. He wanted to move to a better district to learn more about foxes by living in the woods with them, and so he learned that district 12's outskirts was abundant in foxes as well as other animals. He planned to move there at the age of 20, but was reaped at 17 before he could have the chance.
Interview angle: Quiet, cold and calculating. He will not reveal anything about his plan.
Bloodbath strategy: Run. Away. Find high ground, and water.
Games strategy: Act like foxface, and use his smarts to methodically kill the other tributed indirectly.
Feast strategy: Hide somewhere. The moment the table clicks into place, run, get stuff, and go.
Allies: Alone
Community content is available under
CC-BY-SA
unless otherwise noted.