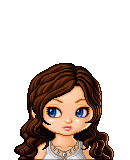 Fiona Ramone
Name: Fiona Ramone
Age: 18
Gender: Female
District: 3
Weapons: Wire, Bow and Arrow
Strengths: Killing Brutally, Intimidation
Weaknesses: Not Loyal, A little crazy
Backstory: Fiona was born into a family of four. She had an older brother, a mother, and a father. Her mother was a genius and the Capitol used many of her inventions in technology. Then, Fiona's mother created a potion that would make someone immortal. She decided not to share the potion with the Capitol, because she didn't know how that would change the nation of Panem. One day, Peacekeepers ordered her to give them all of her new inventions, and she refused. She burned the instructions on how to create the immortal potion and destroyed the potion itself. The Peacekeepers killed her for doing so, and killed Fiona's father and brother for being in on it. Fiona hid under her bed and they didn't find her. Since that point, Fiona has turned into a cold, evil girl who kills for pleasure. She volunteered for the Games just to kill others, but she wants to win too.
Personality: Cold, Evil, Sinister, Will betray anyone
Fears: None
Token: Family photo
Community content is available under
CC-BY-SA
unless otherwise noted.