Info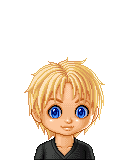 District 2
District Partner(s): Miley Gold or Trina Smith or Courtney Thorna
Age: 18
Weapons: Throwing knives, spears, maces, swords and axes.
Skills: Swords, spears, maces, knives (throwing and wielding). He's very smart and won't be lured into traps. He's extremly muscular and fast. He can climb cliffs, knows basic survival skills and is a fast swimmer. He excells at hand-to-hand and wrestling. Knows how to kill with his bare hands too.
Strategy: Join the Career pack and hunt down the other tributes. Not exactly as leader but as someone high up in the Careers. IF WITH MILEY GOLD: Protect Miley to the death and make sure they both make it to the final two, then commit suicide to save her.
Token: None
Weaknesses: Cocky, doesn't know how to go hungry. Lacks in deep survival skills. Would go completly insane if Miley died.
Personality: Mean, cruel, calm, calculating. Likes to have fun. Protective of his sister. Doesn't give mercy.
History: Born with an identical sister named Miley and the two became very close during childhood. Raised to believe his family was better then everyone else's. He picked up many skills in training and became a mean person. Bullies the weaker kids at school and is very popular. A total ladies man. He has secretly killed a few kids that he really hated with a can of gasoline and a match.