Tribute by Kaeghan-is-a-Tribute

District partners with Komentia Flores
Information
Name: Greyson Darlon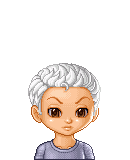 Age: 17
District: 0
Height: 5'11
Weapon: Greyson doesn't prefur close ranged weapons, and he isnt good with a bow so he likes using Spears.
Strengths: Greyson is very intelligent, he is very knowledgable about the weather and how to predict the weather from just knowing the location he is in or basing on the clouds. He has a naturally very good throwing arm, he doesn't know why but it just naturally occurs to him. Finally he is also quite strong, again naturally, he doesn't know why.
Weaknesses: Greyson isn't a very fast runner, he isn't horribly slow, but he isn't a very good sprinter and he can't run very long distances for he gets tired easily. Greyson also isn't very good with melee fights because he isn't good at strategising.
Personality: Greyson is a very serious person, he doesn't like joking around and in a way he is kind've stuck up. He finds that people who don't have the best IQ's shouldn't talk to him because he thinks that they won't understand anything. Greyson doesn't have a lot of friends because a lot people don't like his personality, but he does have some friends that have a very similar personality to him. Greyson isn't a very happy person, he is only happy when he discovers something new with his weather studdies or if he gets good grades in school.
Backtory: Greyson was born into a family of 6. There was his parents, him and his 3 sisters. Greyson always loved District 0. He loved the cool weather and always waking up seeing snow on the ground, he was fascinated how the weather patterns of District 0 was different then most of the other Districts. The other Districts were mostly warm, but District 0 was always cold. His father was a very succesful meteorologist, everybody loved Greyson's father and Greyson always looked up to him. Once in a while Greyson went to work with his father at the lab where they sent weather balloons into the air and studdied all sorts of different weather patterns. He became so curious about the weather and grew up studying weather on his own time. He became highly intelligent and he became the top student in his class at his school. Although his social life suffered, he never really cared because he loved the weather and he loved being so smart. He one day dreamed to be a meteorologist like her father, but was reaped for the games.
Strategies: Gather a small amount of things from the outskirts of the Cornucopia and then run away. Try to hide and base a lot of decisions on the weather. Don't kill unless needed and don't get on anyone's bad side.
Community content is available under
CC-BY-SA
unless otherwise noted.