James Desmond is a Tribute created by ConspiracyKiller825. Please don't use him without ConspiracyKiller825's permission as he belongs to him. James is one of Conspiracy's "14th Generation" Tributes.
Information
Name: James Desmond
Age: 15
Gender: Male
District: 5
Height: 5"5
District Partner: (N/A)
Quote: "Inside the games, inside the arena, nobody can be considered dead until that cannon booms. Now that is the real golden rule."
Personality: Sly. James is a mastermind as well as double-crosser. He loves to play people and will kill to get want he wants. He has no friends and doesn't trust anyone except his family. He loves to make plans and do the dirty work himself. He will kill anyone in the games and in the most painful and gruesome way possible. He also loves to stalk people and kill them by surprise. He will do whatever it takes to win, and will kill however many people he can on the way. Also, James will let nobody stand in his way, he'll let nobody disrupt his plans and if somebody does anything against him, James won't stand for it. When somebody decides to fight against him, James will never go down without a fight just like he was always taught, he'll fight until the very end, no matter the odds and no matter the opponent. And unless James completes all of his goals and all of his accomplished, and achieves everything that he wants, James shall never be satisfied.
History: James had always stepped in his father's footsteps. He loved to follow his father and thought the world of him. Although he wasn't the best influence, he was able to make a connection with James that most people couldn't. Thus meaning his father was his favourite Desmond out of the entire family. Although the Desmond family members were quite unique and different to each other, they all came together and had fun together on one subject that occurred every year. This subject was the Hunger Games. The whole Desmond family loved this event and they all watched it together every year, like a family tradition. James and his father had a special game that they created together, and the whole family could join in if they wanted too. Their special game was to make inside bets on whom, the Victor would be. It was a very competitive game between them, and throughout the entire family. But unfortunately that happiness couldn't last forever.
One night when James was only 11, he saw his father staring at him from his doorway while James was asleep. James saw his father leave and heard the front door close a few seconds later. He believed that he was dreaming and went back to bed. He woke up to the sound of the front door being smashed open. James got up and ran to the door of his bedroom to find peacekeepers invading the house. He could hear the radio talk, "The suspect is missing, I repeat the suspect is missing!" James and the rest of his family were distraught when they heard the news, their father was missing. The Desmond Family was taken into custody and was brought down to the police station by the peacekeepers. Every single family member was questioned, and everybody said that they knew nothing of the event, including James. His father had always had a distaste and disgust for the peacekeepers and James shared this belief. Thus meaning he wasn't going to help them find his father, he was going to search for his father himself. James searched the entirety of District 4, throughout every house and every nook and cranny, but to much despair found no trace of his father. Months went by without any news or any sightings, and it was obviously presumed that he was dead. His family seemed to accept this, but not James. He had a feeling that father was still out there, and unless there was proof of a body, he would never accept his fathers death. The Desmond family was now being avoided; even the teachers avoided the Desmond kids at school. They eventually became outsiders and it seriously affected everyone in the Desmond Family.
It had been 5 months since James's father had gone missing. Those months had been filled with heavy emotions and heavy questioning by the police. It was just another day at school, when James's History teacher held him back in class. James believed it was because of his actions, now that it had been so long since his father was missing, he sort of felt empty and all alone, he basically felt broken. But James's History teacher was not in the mood to chat, just to explain the truth.
"James, I knew your father better then anyone. We were best friends for our whole lives. Look this will be the last time you see me. I have to escape before they come for me as well. Your brothers and sisters already know what has happened and are getting ready right away. You have to get out, James. They are coming for you and there is no way that you can survive. Your father was a great man and don't you forget it. Though, he had a weakness just like anyone. He was power-hungry. That night that your father left, he snuck on a train heading towards the Capitol. He broke into the President's mansion and was so close to completing his mission. He had taken the President hostage. He wanted to rule Panem himself. Though your father had missed a crucial detail. That day, there was a meeting that all District mayors had to attend. The District 2 mayor had stayed late to have dinner with the President. He had heard the commotion that your father had made. The District 2 mayor caught him and they took your father hostage. Torturing him for answers. Though our source in the mansion tells me that they finally got what they wanted and killed your father. Now they're coming for all of us and will wipe out the whole of District 4 to do so. I have arranged a hovercraft for your family to be moved away from District 4. Everything is set. Now run home pack up your life and be ready to say goodbye."
James had been in complete shock and silence as he had heard this. But for some reason, his teacher's tone, the way he expressed this story, made James believe in what he was saying. Without knowing what he was doing, James suddenly ran out of the school and made it home and right into his brother's arms. His brother reassured the family that everything would be okay, and that they just needed everyone to stick together. Although James nodded and agreed, he was secretly freaking out, and not only that but he was slowly coming the realisation of the situation and that his beloved father was really dead and really gone from his life forever. They were waiting for the signal to leave and heard the news on TV. "Today the President made a socking discovery when he found a dead body inside his bedroom. He believes the victim is a missing father from District 4. They are just waiting for the DNA testing to come back." Then suddenly the text came and the family bolted towards the town square carrying their entire life with them. James was furious that the President had made the death look like something of a suicide and not the blatant murder that it was. But James had no time to stop and think. They were bolting towards the District's Justice Building rooftop, but suddenly peacekeepers came out of nowhere and began shooting at them, trying to keep them from escaping. They quickly made it to the rooftop and jumped into the hovercraft. Everybody seemed okay until James's mother collapsed. There was nothing they could do but stay with her until her death. James looked around and at his slowly decreasing family, what would they do now? How could they hide for the rest of their lives. The hovercraft suddenly stopped and the pilot grabbed James and walked with him out onto the rooftop of the Justice Building in District 5. James wondered what was happening, as none of his brothers or sisters left the hovercraft. He came the realisation that maybe they were going to run and hide, but to James that didn't make much sense. The pilot told James some information and gave him some documents. He told James were to go, and to do whatever they say when you arrive. James nods and skims through the documents, which are full of legal information about his birth. James stops on the last page, which is filled with information on his 'adoption terms'. James then suddenly put the pieces together, but it was all too late. The hovercraft's opening just closed as he looked back. James began to run towards hovercraft but it suddenly speeded off into the night's sky. And James knew that he would never be seeing his brothers or sisters again.
James then had no other choice but to follow the pilot's directions, which lead him to an empty warehouse. Suddenly some people showed up and never once spoke a word to James, they just took his documents and sat him down on a chair. Then a man and a woman walked in and sat down, and they began discussing with the others and the signing all of the legal documents. James knew that these people would become his new parents, his new family. James was then suddenly shoved a piece of paper that stated the terms of his stay in District 5. James quickly skimmed over the list and quickly protested. But nobody would listen to him, they just held him down and covered his mouth, beating him until he shut up. What James had seen was the fact that he had to change his appearance, and that fact that he was going to lose his purple hair, which was the only part left of his father, since he had been the one to do it for him. Suddenly the sun began shinning through the windows of the warehouse, and James caught his reflection, and he looked nothing of the same. And his hair was just dyed a pure black, which James completed hated and he didn't mind letting everyone know. He was now completely under his new parents guardianship. And from then on became an ordinary boy from District 5. He continued going to school, doing chores and never spent a day without thinking about his old life and his old family, always wondering where they where and what they were up to. But even if he could reach his old family, he wouldn't be the same. The events in his life had completely changed his personality. James was now quite bloodthirsty and was taking huge stride in his father footsteps, wanting to be exactly like him. He now wanted to win the Hunger Games so that as a Victor, he could become a mentor with easy access to the Capitol, so that he could complete his fathers mission and kill the President, taking over Panem and living his fathers dream. James was planning to volunteer at the age of 18, when he would be at his prime to win the games.
And James was even preparing, from the age of 12-15, he would often head back to the warehouse where he adopted. It was always completely empty and served the perfect place for practicing. He would practice hand-to-hand combat and other forms of none weaponry fighting. He would also sometimes steal ordinary kitchen knives from his home and practice combating and fighting with them as well. But not only that but he also managed to learn the art of creating poison, gathering the leaves from the woods surrounding District 5 and learn how to mix them with other ingredients to create his own deadly poison. It then suddenly became the reaping day when he was 15 years old. The night before he had managed to bargain with his guardian parents, and they had allowed him to dye his hair back to purple, knowing that it had been four years without any trouble from anyone. This really boosted James's confidence and sort of fixed him, and gave him back what he was missing. That day in the reaping he didn't even consider the idea of being reaped. But when his name was called, it sort of ignited a fire within him. He confidently walk up onto the stage and proudly stood there, largely smirking into the cameras. Although he would've preferred to wait three more years, he knew that he was ready and that he was prepared. He was going to kill anyone who would stand in the way of his victory and of completing his fathers dream. Nobody was going to stop him, he was going to make sure of that.
Strengths: James originates from District 4, thus meaning that he excels at swimming and water-related activities. He's great at using the resources surrounding him and using actual battlefield to his advantage when fighting. James devises plans for everything, and knows what he wants and how to get it. He is great with certain weaponry and hand-to-hand combat. James also has amazing aim from long distance, which is really useful for long ranged weapons. But a main strength for James is that he won't back down from a fight from anyone, no matter the odds.
Weaknesses: James sometimes likes to go into battles head-on without thinking, which is a great downfall for him because this increases his hot-headed behaviour and arrogance. James likes to go it alone and won't trust anyone except his family, because they are the only people who can begin to understand him and his situation. Another great weakness for James is that he always aims for the hardest goals to complete, and he is never satisfied until they are. James will also fall for traps very easily and isn't well in combat when somebody catches him off-guard.
Fears: James always fears that the Capitol are always watching and stalking him, and that one day they'll come and kill him. Being the games, one of his main fears is that the President shall convince the game makers to give him a natural death, as in like dying from an avalanche or volcanic eruption that the gamemakers create but always state that it wasn't intentional. Another great fear of James's is that he won't complete his father's mission and that he'll disappoint him and dishonour him. James also fears any kind of fruits in the arena as he knows they can kill just as good as a sword, he'll steer clear from plants unless it's for his poison creation, just like his father had always taught him.
Family: 
Dad: Brandon Desmond (Biological, Desceased), Drew Hill (Adoptive)                  Appearance: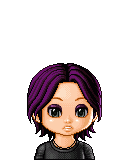 Mum: Christina Desmond (Biological, Desceased), Lauren Hill (Adoptive)
Brothers: Eric Desmond, Mike Desmond, Nick Desmond, Kyle Desmond
Sisters: Melissa Desmond, Alannah Desmond, Hannah Desmond
Eye Colour: Black With A Touch Of Grey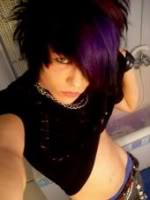 Hair Colour: Dark Purple
Weapons: Trident, Poison, Machete, Knife
Reaped/Volunteered: Reaped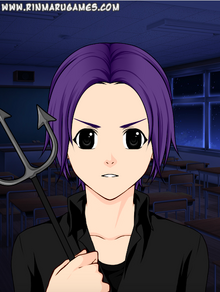 Group Training: James shall use group training to gain more skills for his weaponry, nothing else. James doesn't care for any of the other tributes and since he won't be making any alliance, James shall just focus on himself. The only exception for this rule is the fact that James wants to learn the strengths and weaknesses of the other tributes. Each day he'll be keeping the other tributes training in the corner of his eyes, remembering their strengths and weaknesses in order to plan a real attack that will favour James in the games. But other than that, James shall stick to himself. For the first day of training, James shall use it for survival information. He'll be found at stations such as plant identification, knot tying, trap setting and other stations that'll teach him good survival skills. For the second day, James shall use it for new weaponry training. Meaning James will be picking out some weapons that he isn't used to using, such as Spears, Bow and Arrows, Swords and Maces. This is just in case James's ideal weapons can't be found inside the cornucopia for the bloodbath. This shall also be the day where James realises his skill inside another weapon, the machete. For the third and final day of training, James shall be using it as a mastery session. Meaning James shall be perfecting his weaponry skills with his Trident, Machete and Knife. James shall also be trying to perfect some traps that he'd like to use inside the games. Overall James shall be using group training for what it was meant for, sussing out the other tributes and perfecting his own skills.
Private Training: James shall give his private training everything that he has got. James is aiming for the highest possible score, and hope to obtain it. Although James would like to show the fact that he can create his own poison, James doesn't have enough time to complete this task. Thus meaning, James must show them all of his weaponry skills, his best weaponry skills. James shall start by calling over a trainer to battle with. He'll show off his talent in hand-to-hand combat, holding nothing back against the trainer. James shall then grab a Knife and battle against the trainer with that. Showing off his agile skills as well as his Knife skills. James shall then grab five dummies and hang them from the ceiling showing off his knot tying skills. James shall grab some Tridents and head as far back as possible. He'll throw each of the Trident's into the dummies skulls, showing off not only his Trident skills but his aim skills as well. But James isn't done yet. He shall grab a Machete and tear apart the dummies, fighting them and chopping off their limbs. Once each of the dummies limbs are all over the floor, James shall then pick up another Trident and begin to walk to a place in the centre where he can throw the Trident and it shall cut all of the ropes holding up the dummies at once. This shall show off his strength and again his aim. James shall then simply just turn around and exit the centre, leaving the gamemakers in awe.
Interview Angle: The interviews, the most uninteresting part for James. James's strategy for the interviews will more be a show off rather than an explanation. What I mean by that is, James will get his stylists to really do him up, James wants to be looking handsome as hell. He wants the best suit that his stylists can make, maybe it'll have something special about it, but he also wants his purple hair to be the main focus on the outfit. When James walks across the stage, he wants the Capitol citizens to be in awe. James is trying to use his hair to make the audience believe that he is one of them. When it comes to the questions and answers, James shall only answer about his hair and about his stay at the capitol, nothing else. He'll answer quite detailed but with no emotion inside his voice. James is hoping that this will come off as if he wants the games to start already and not waste time on silly interviews, which is line that James wants to mention inside his interview. He wants to let people know that he is ready, and he wants the sponsor to know that he can do this, the boy from District 5 can be just as good as any Career, another of James's lines. Basically James wants to say what he needs, answer the questions as fast as he can and get the hell out of the spotlight, and once that is done, James has done everything he can to obtain sponsors, he now just had to prepare for the games.
Bloodbath Strategy: As soon as the gong sounds, James shall be off his pedestal. He knows that he has no time to waste, as he's not a fast runner and everyone else appears to be. James is going for the big guns, his trident and machete. Although James knows that he'll arrive after some of the other tributes, that won't stop him from getting as close to the cornucopia as possible. Being extremely careful James will run in and grab his weapons. There is good chance of somebody battling against him and James knows this. He'll be on extra alert but once he has his weapons among his hands, nothing will stop him. The second that the road is clear and James has his weapons in hand, he'll run from the cornucopia, picking up and outlying bag on the way out, hoping for some food and water. James wants to be out of the cornucopia as quickly as possible, and unless absolutely necessary he won't make a kill because he doesn't have time. He knows that this bloodbath isn't he strong point, not being able to have time to plan his kills out and all. James will run out of the cornucopia and to the section of the arena that he can see contains water, such as an ocean or a river, thus meaning he'll look for sections such as beaches or woods or even mountains if there is no other option.
Feast Strategy: James's strategy for the feast shall be to rock up at the absolute latest possible time. James is hoping to arrive to the outskirts, where there is coverage that'll make him invisible, around the same time that most of the tributes are running for their bags or fighting against each other. This is because James wants to be a hiding a position where one of the tributes shall run by on their way out from the feast. He wants to be hiding, for them to believe that it's safe and then once they've run past him, he'll then reveal himself and throw his trident into the tributes back of skull, meaning that they'll never know anything about their death. James hopes to do this to one or two tributes but any more would be amazing in James's eyes. Once his bag is the only one left on the table, James shall then also run quickly out to get his bag before running back to the coverage and heading back to where he heard of the feast's announcement. If somebody tries to fight against him, James shall have no problem, having his trident and machete ready to go at the slittiest unknown moment. In the event that another tribute take James's bag, James shall go and begin to hunt down that tribute, killing them with our hatred for all the extra work that he's had to achieve just to receive his bag. Once that tribute is dead, he'll take both bags and both items, using them to the best of his advantage. Once this is completed he'll then also run back to the place where he heard the feast's announcement.
Games Strategy: James's main strategy for the games shall be survival. James will spend the first half of the games preparing for the second half. James will grab his weapons from the cornucopia, and then basically go into hiding. James shall start collecting the plants and creating the ingredients that he needs to make his deadly poison. This will be a main reason for his hiding, because he wants to have plenty of poison for the end of the games. Another reason that James shall go into hiding is the fact that there are way too much many tributes for him to deal with. James likes to attack one on one, and at the very beginning of the games, if James attacked, it would be something like one on five, which James knows are odds which even he can't defeat. Thus meaning for the first half of the games, James shall be in pretty serious hiding, and throughout this time he'll be planning and scheming, creating his poison, setting up some traps and hiding from other tributes and alliances. However, if James see's an good opportunity to make a kill, such as seeing a loner in the woods, he won't hesitate to make that kill. He won't think twice about his actions, because secretly he hates hiding, he'd love to be going around and killing the tributes but he knows that this is the only way that he'll survive. Once the second half of the games begin, James shall show his true colours. He'll be hunting down every tribute, using his traps and poison to his advantage. From hiding throughout the first half of the games, James has a pretty good idea of the places that the other tributes are hiding. Meaning that he'll won't have too much trouble finding the others and hunting them down. James shall kill everyone and anybody that he can, including his district partner. James knows that the more kills that he produces, the closer he is to completing his fathers dream, the closer he is to victory and the closer he is to fulfilling his life goal. James shall let nobody stand in his way, this is his victory and he shall be playing the game every second, he'll always be thinking and shall always be on his toes, ready for anything. This was his killing game to play.
Token: A $100 Bill From His Father (James Won The Victor Bet)
Alliance: Alone
Reason For Winning: James's reason for winning, for becoming the Victor and becoming bathed in fame and riches, is really quite simple. If James could win the Hunger Games and be officially announced as Victor, not only would that prove something to himself but I think that it would prove something to the entire Desmond family, his father would be looking down on him, filled with proudness of his son. But that is not the main reason that James wants to be crowned a Victor, no, the real reason is because James wants to become a Mentor for the District 5 Tributes. But it's not what you're thinking, James doesn't want to become a Mentor to help others, no, the real reason that James wants to become a Mentor is because it'll give him easy access into the Capitol, every year until he retires. But James doesn't want to go to the Capitol for sightseeing, no, James wants to have easy access to the Capitol because he wants to complete his fathers unaccomplished mission. James wants to break into the Presidents Mansion and find and kill the man that runs the show and the world, the President. James wants to kill the President, the same as his father tried, then James shall take over Panem, and finally bring justice to his fathers death, as well as proudness to his father up above, finally living his dying dream.
Hunger Games
Best Training Score: 
Best Odds: 
Best Placing: 
Best Quote: 
These are the Hunger Games, James has Participated in.
Game Title: The Alliance Games - The 234th Hunger Games
Author: 1Echo2 
Game Status: Accepting Tributes
Victor: 
District: 5
District Partner: 
Training Score: 
Odds: 
Alliance: 
Kills: 
Placing: 
Death: 
(Who) 
(How) 
(When) 
(Where) 
Paragraph: 
Comments: 
Link: http://thehungergamesrp.wikia.com/wiki/The_Alliance_Games-_The_234th_Hunger_Games
Game Title: 600: The Pandemic Of Pain
Author: The Wayward Daughter & Probably Reading 
Game Status: Accepting Tributes
Victor: 
District: 5
District Partner: Maxwell Brites (D5M - Sambaroses), Yun Zhao (D5M - YFS), Acacia Spruce (D5F - YFS), Violet Dionaea (D5F - PPP), Dominique Brites (D5F - Sambaroses)
Training Score: 
Odds: 
Alliance: 
Kills: 
Placing: 
Death: 
(Who) 
(How) 
(When) 
(Where) 
Paragraph: 
Comments: 
Link: http://thehungergamesrp.wikia.com/wiki/600:_The_Pandemic_of_Pain
Game Title: The IV Games
Author: BaconCanadian 
Game Status: Day 1
Victor: 
District: 14
District Partner: Vesta Furnace (D14F - Yonnie) 
Training Score: 10
Odds: Ranked 2nd
Alliance: Loner
Kills: 
Placing: 
Death: 
(Who) 
(How) 
(When) 
(Where) 
Paragraph: 
Comments: 
Link: http://thehungergamesrp.wikia.com/wiki/The_IV_Games
Trivia
James was the Fifth Tribute made in the "14th Generation"
James was also the Fifth Tribute ever created by ConspiracyKiller825
James was the Fourth Male Tribute ever created by ConspiracyKiller825
James was the First District 5 Tribute ever created by ConspiracyKiller825 
James was the Second Alone Alliance Tribute ever created by ConspiracyKiller825
James was the First Desmond Family Member created by ConspiracyKiller825
James was the Second Fully Completed Tribute of ConspiracyKiller825
James is one of Conspiracy's most used Tributes
James is one of Conspiracy's favourite Tributes
On April 14th 2015, James Was Completely Re-Done And Fully Completed
James has turned out to be quite similar to one of my other Tributes; Scarlett Winters, as they both seem to be the opposite gender version of the other
Community content is available under
CC-BY-SA
unless otherwise noted.