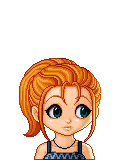 Jenna Everett
Name: Jenna Everett
Age: 17
Gender: Female
District: 13
Weapons: Blowgun
Strengths: Hiding, Tree Climbing
Weaknesses: Hand-to-Hand Combat, Making Friends
Backstory: Jenna has always been a solitary person. She doesn't really like talking to others and prefers to work alone. She is training to be a sniper in the District 13 army, but can't use a gun until she turns 18. She has been using a blowgun instead and has become very good with it.
Personality: Quiet, Confident, Reserved, Aloof
Fears: Insects
Token: Anklet from home
Games
Participated In: 121st Hunger Games
Author: Jsm13athome
Final Placement: 2nd Place
Total Tributes: 26
Allies: Alice Marsop, Chandler Brass, Luke Searer, Hinder Black, Lucifer Fingal, Enili McGee, Demetria Callitor
Killed: Luke Searer, Logan Blue
Killed by: Enili McGee
Description: Jenna became friendly with the alliance of Alice Marsop, Chandler Brass, Luke Searer, and Hinder Black. She didn't join them, but made a pact not to kill each other. She was also friendly with Lucifer Fingal because they were both from District 13 and turned down the Careers together. In the Games, Jenna allied with Luke and Hinder after almost dying in the bloodbath. Luke saved her from Garnet and they escaped to the cruise ship. Jenna then went off alone and reunited with Luke and Hinder after Alice and Chandler died. Lucifer saved Jenna's life during a monkey mutt attack. Then, Demetria invited herself into Jenna's alliance. Jenna never trusted her, but she shouldn't have trusted Hinder, who backstabbed the alliance by locking Jenna, Luke, and Demetria in a closet. After Luke kills Hinder, Jenna goes off alone again, making two kills at the feast and surviving until the final three. Aldo Gambetti stabs Jenna in the stomach with a sword, and then Enili McGee, her newfound ally, kills him. Jenna gives Enili a monkey bone from Lucifer to give to District 13, and then Enili kills Jenna out of mercy.
Community content is available under
CC-BY-SA
unless otherwise noted.