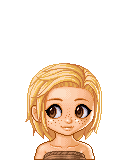 Julie Griswold
Name: Julie Griswold
Age: 12
Gender: Female
District: 3
Weapons: Bow and Arrow
Strengths: Intelligence, Accuracy
Weaknesses: Swimming, Brute Strength
Backstory: Julie grew up in a rich family in District 3. Her older brother won the Games one year, and her parents were never reaped. She didn't train much, but she was extremely smart and could make a trap out of anything. She also knew how to use a bow and arrow.
Personality: Cute, Pitiful, Sweet, Kind
Fears: Dying
Token: Green bead necklace
Games
Participated In: 56th Annual Hunger Games
Author: Nommyzombies
Final Placement: Place
Total Tributes: 72
Allies: Sheri Dewl
Killed: None
Killed by: Shimmer Cashmere
Description: Julie was shot in the head with a poison arrow by Shimmer Cashmere, but survived until the feast. Her ally Sheri died at the same time Julie was injured. At the feast, she was shot with an arrow yet again. This time it hit her eye and she died.
Community content is available under
CC-BY-SA
unless otherwise noted.