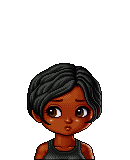 Karina Sumner
Name: Karina Sumner
Age: 17
Gender: Female
District: 11
Weapons: Blowgun
Strengths: Running, Brute Strength
Weaknesses: Swimming, Cannot take care of self
Backstory: Karina was born as the youngest of nine children in a poor family. All of her siblings are past reaping age except for her. They do not allow her to take tesserae, as Karina is the baby of the family and everyone feels like they need to protect her. She dreads reaping day and cannot wait until she is 19.
Personality: Needy, Quiet, Whiny, Babyish
Fears: Bugs
Token: Lucky stone
Games
Participated In: 56th Annual Hunger Games
Author: Nommyzombies
Final Placement: 60th Place
Total Tributes: 72
Allies: None
Killed: None
Killed by: Troy Ventura
Description: Karina escaped the bloodbath, but when the Cornucopia area turned into a maze, she was trapped and eventually found by the Careers. Lead by Troy Ventura, the Careers took turns hacking at Karina, eventually killing her. Her death was very brutal.
Community content is available under
CC-BY-SA
unless otherwise noted.