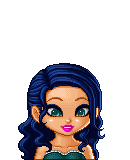 Karma Melona
Name: Karma Melona
Age: 16
Gender: Female
District: 9
Weapons: Throwing Knives
Strengths: Intelligence, Deception
Weaknesses: Brute Strength, Swimming
Backstory: Karma grew up in the Capitol and lived a very rich, lavish life. She never had any worries, until her mother died. Karma's mother was murdered, and the Capitol suspected her father. They killed her father and Karma was banished to District 9. She stills dresses like she lives in the Capitol, and enjoys District 9, though not as much.
Personality: Friendly, Nice, Talkative, Generous
Fears: Getting executed
Token: Locket with mother's picture
Games
Participated In: 90th Hunger Games
Author: Los95361
Final Placement: 1st Place
Total Tributes: 27
Allies: None
Killed: None
Killed by: None
Description: Karma escaped with her life from the bloodbath and stayed under the radar until the Gamemakers forced the final eight tributes to the edge of the arena, where four would die and four would become victors. Then, she stayed out of the final battle, until she was one of the remaning four. Karma is one of the few, if not the only, victors to not get a kill in the arena.
Community content is available under
CC-BY-SA
unless otherwise noted.