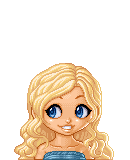 Katrina Villa
Name: Katrina Villa
Age: 15
Gender: Female
District: 6
Weapons: Throwing Knives
Strengths: Persuasion, Running
Weaknesses: Swimming, Brute Strength
Backstory: Katrina was born into a poor family in District 6. Her father died when she was very young, and her mother was the only one she had. Katrina's mother used Katrina's beauty and innocence to steal and persuade people to give them things. For example, Katrina's mother covered Katrina and dirt and made her beg on the side of the street for money. Katrina has learned to use her looks for persuasion, but her mother also had a negative effect on her. Katrina finds it really difficult to trust others and always thinks she is being used.
Personality: Flirty, Seductive, Confident, Persuasive
Fears: Being used by someone
Token: Locket with father's photo
Games
Participated In: 173rd Hunger Games
Author: Foxfacedfanatic
Final Placement: 21st Place
Total Tributes: 28
Allies: None
Killed: None
Killed by: Scott Jameison
Description: Katrina ran alone into the rocky area of the arena and pinned Delilah Woods of District 9 to the ground. She screamed, alerting her district partner Scott Jameison. As Katrina was about to stab Delilah, Scott pushed her off and killed her, placing Katrina 21st, the last tribute to die on D1, and the only tribute to die on D1 who escaped the bloodbath.
Community content is available under
CC-BY-SA
unless otherwise noted.