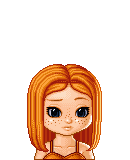 Katya Fredella
Name: Katya Fredella
Age: 17
Gender: Female
District: 4
Weapons: Sword
Strengths: Running, Climbing
Weaknesses: Swimming (ironic), Self-Esteem
Backstory: Katya is not like the typical District 4 tribute, aside from being a ruthless, skilled Career. She has pale skin because she hates the beach and water, and long strawberry blonde hair. Katya cannot fight with a trident or swim to save her life. However, she is an expert with swords. She is not very confident or charasmatic because she doesn't feel like she fits in with her district. She hopes that winning the Games will give her the confidence needed to live life to the fullest.
Personality: Shy, Quiet, Timid, Sad
Fears: Water
Token: Locket with family portrait on it.
Community content is available under
CC-BY-SA
unless otherwise noted.