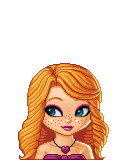 Kira Tempora
Name: Kira Tempora
Age: 18
Gender: Female
District: Capitol
Weapons: Sword
Strengths: Bringing People Together, Running
Weaknesses: Following Others, Brute Strength
Backstory: Kira loves being the leader of a group, and gets quite angry when she's not. She is extremely responsible and has never missed a homework assignment in her life. She is the class president and has many fundraisers. Kira can never leave anything for later; she always has to get stuff done right away. Her parents are very strict for Capitol parents, and that is the reason she is so uptight.
Personality: Outgoing, Leader, Responsible, Stubborn
Fears: Not being the leader of a group
Token: Agenda Pad
Community content is available under
CC-BY-SA
unless otherwise noted.