Tribute by Kman528
Kree Finch is District partners with Nitro Neutren
Information
Name: Kree Finch
District:12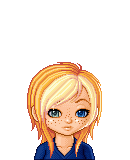 Age: 15
Height: 5'5
Weapon: Pick axe, knife
Strengths: She is good with melee weapons and hand to hand combat and she is very smart and a likeable person.
Weaknesses: Can't swim and isn't the strongest
Fears: Spiders, snakes
Personality: She is a very funny girl and always likes to make people smile. She is also one of the most popular girl in her school, but she isn't mean like some of her friends.
Backstory: Kree had a fairley normal life. She was born in District 12 and is an only child. She would've had a sister except her mother had a misscarage. Kree always hung out with her friends since she didn't have any siblings. Kree and her friends always liked to wrestle which is why she likes hand to hand combat,  but she usually lost against most of her friends. She developed a crudh on this guy name Flash and eventually they dated and are madly in love.
Bloodbath strategy: Go for the closest supplies and then run out of there
Games strategy: Form an alliance with someone trustworthy, but that she can easily overcome and try to hide most of the games
Games
1. The pain games- Mistymolla
Place: N/A
How: N/A
Community content is available under
CC-BY-SA
unless otherwise noted.