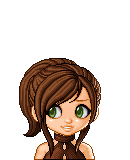 Layla Ross
Name: Layla Ross
Age: 17
Gender: Female
District: 3
Weapons: Knife
Strengths: Making Friends, Physical and Mental Strength
Weaknesses: Swimming, Running
Backstory: When Layla was 13, her two little sisters were four and her little brother Aidan was six. Layla was in charge of watching her siblings while her mother went out to the store. A man broke into their house while Layla's mother was gone. Layla quickly gathered her siblings when she heard the break in and hid in a closet with them. Aidan was watching the criminal steal their things through the lock in the door when the criminal picked up Aidan's favorite toy, a stuffed dog. Aidan burst out of the closet determined to rescue his beloved dog and the criminal snatched him up and took him away. Layla hasn't seen him since. The police tracked him down for months but they could never catch him or Aidan. Layla blamed herself for her brother's kidnapping and became a very spiritual person afterwards. She believes that if she continues to do nice things for others, her brother will come back home. She wants good karma.
Personality: Extremely Nice, Protective of Younger Siblings, Selfless, Generous, Kind
Fears: Dogs and the man who kidnapped her brother
Token: Picture of Aidan
Community content is available under
CC-BY-SA
unless otherwise noted.