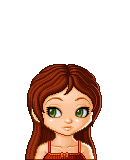 Leanna Farias
Name: Leanna Farias
Age: 12
Gender: Female
District: 8
Weapons: Bow and Arrow (barely)
Strengths: Intelligence, Speed
Weaknesses: Hand-to-Hand Combat, Strength
Backstory: Leanna is extremely small, weighing only 70 pounds and being only 4 feet tall. She is the baby of her family, and both of her older brothers have died in the Games. She doesn't have much training with weapons, but she is very intelligent and knows how all of the machines work in District 8. She hopes to get by in the Games by avoiding the other tributes and staying hidden, while using her extensive knowledge to hunt and gather edible supplies.
Personality: Shy, Quiet, Timid, Sweet
Fears: Height
Token: Favorite pair of sunglasses
Games
Participated In: 122nd Hunger Games
Author: Jsm13athome
Final Placement: 7th
Total Tributes: 26
Allies: Aurora Wilde
Killed: None
Killed by: Boxina Gad
Description: Leanna and Aurora Wilde from District 7 allied during the bloodbath and escaped with their lives. They stayed under the radar for as long as they could. Finally, Boxina Gad attacked them and Aurora and Leanna managed to push her off a cliff. However, Boxina hit the force field, came back, and killed Leanna with her axe, placing her 7th.
Community content is available under
CC-BY-SA
unless otherwise noted.