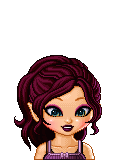 Leona Mastin
Name: Leona Mastin
Age: 15
Gender: Female
District: Capitol
Weapons: Sword
Strengths: Speed, Agility
Weaknesses: Brute Strength, Camouflage
Backstory: Leona grew up as one of two children. Her parents were divorced, and her and her brother lived with their father. Her mother was an alcoholic and rarely saw the kids, and her father worked a lot. Leona and her brother became really close, best friends actually. Besides Junior, Leona had no friends in school. She always enjoyed sword fighting as an exercise, and she was pretty good at it. She hoped to win the Games so she could go back to her brother, because she knew that he would be unhappy without her.
Personality: Sweet, Caring, Kind, Considerate
Fears: Losing a friend
Token: Brooch from brother
Community content is available under
CC-BY-SA
unless otherwise noted.