Info
District: 6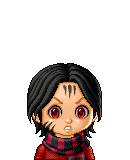 District Partner: Hope Perquin
Age: 18
Weapons: Axe. Bare hands
Skills: Mac is a bloodthirsty killer so he's great at the art of murder. He knows how to use and axe, any kind. He is also amazing at hand-to-hand. He's fast and strong. He's good at climbing and knows lots of survival skills.
Strategy: Mac plans to murder every thing tht breathes (Although Tributes are his first priority). Kill Careers and strongest threats first, weaklings second. Make every tribute that he kills suffer.
Token: None
WEaknesses: Obessed with killing, can't swim.
Quote: "Kill.... You..."
Personality: Creepy, bloodthirsty. Mentaly disturbed. Crazy, pycho. Laughs at his evil deeds. Evil, wicked.
History: No one knows why Mac is the way his is. One day he was sent to the orphanage in a cradle with the name Mac Williams written on it. No one in District 6 has the last name Williams. The next year Mac killed a little girl by shoving her face up against a gril. He's killed many tributes afterwards and now lives in an insane asylum. (He got his scars from a kid who put up a fight when he tried to kill them)