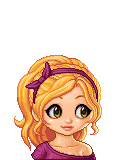 Martina Covert
Name: Martina Covert
Age: 16
Gender: Female
District: 8
Weapons: Sword
Strengths: Intelligence, Swimming
Weaknesses: Speed, Socializing
Backstory: Ever since Martina was born, her mother has been shoving etiquette down her throat. She always taught her what to say, when to say it, how to sit like a lady, how to curtsy, how to use proper grammer, etc. Martina is now a well-mannered young woman. She works in a sword factory in District 8, and knows how to use them and what kind of materials they are made of from working with them so much. Martina's mother also made Martina read and study as a child, so she is very smart. Lastly, Martina is very prissy and hates getting dirty.
Personality: Smart, Mature, Polite, Awkward
Fears: Getting dirty
Token: Mini etiquette book so she never forgets her manners
Community content is available under
CC-BY-SA
unless otherwise noted.