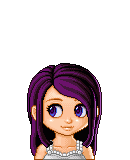 Melanie Garine
Name: Melanie Garine
Age: 12
Gender: Female
District: 6
Weapons: Throwing Knives
Strengths: Hiding in small places, Acting cute
Weaknesses: Hand-to-Hand Combat, Strength
Backstory: Melanie has always been the smallest girl in her grade. She was often picked on, so her mother enrolled her in karate classes. She wasn't too good at that, so she instead trained with throwing knives. Melanie became really good with them and accidentally killed a girl who bullied her. She then dyed her hair and wore colored contacts so they police wouldn't know who she was.
Personality: Cute Kind, Angry if provoked
Fears: Claustrophobia
Token: Charm bracelet
Community content is available under
CC-BY-SA
unless otherwise noted.