Tribute by Kaeghan-is-a-Tribute
Melly Reesha is District partners with Taytus Crem
Information
Name: Melly Reesha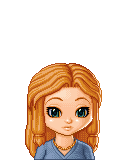 Gender: Female
District: 11 

Age: 12
District token: necklace made of corn stocks, made by her mother who past away
Skills: Sneaky, she is also a good with plants
Weaknesses: Swimming and hand to hand combat since she is so small
Weapon: she doesnt really have one but if she could she would use a blow dart gun
Background: She was born in District 11 and lost her older sister in a Hunger Games when she was 5. Her mother died from heat stroke when Melly was just 8. She now lives with her father and works in the feelds harvesting corn and makes jewlery and hats on her spare time out of dried corn stocks to sell to get extra money. Since her mother and her sister has died she hasnt seeked to much human attention. But when she isnt working in the feelds or making the jewlery and hats she works on school work so she is very smart.
Personality: Shy and quiet
Strategy: Hide in any way possible and avoid the Cornucopia
Games
1. The Outbreak Games- SerpentKing999
Place: N/A
How: N/A
Community content is available under
CC-BY-SA
unless otherwise noted.