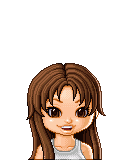 Mila Reboni
Name: Mila Reboni
Age: 13
Gender: Female
District: 2
Weapons: Spear
Strengths: Speed, Accuracy
Weaknesses: Short-Tempered, Brute Strength
Backstory: Mila was born as the youngest of five children. However, she was also the deadliest. Mila always started fights in school and once she bit a kid's thumb off because he tripped her by accident. She has been practicing with spears all of her life, and planned on volunteering when she was eighteen. She was upset that she had to go in with her older brother, but she also was ready to kill.
Personality: Cocky, Arrogant, Devious, Evil, Mean
Fears: Being killed by a weakling
Token: Thumb of kid she fought with
Games
Participated In: 100th Hunger Games
Author: Trackstar
Final Placement: 34th Place
Total Tributes: 48
Allies: Shamus Gartley, Josh Gartley, Drina Vox, Valentine Vox, Hudson Reboni, Camille Evander, Natalia Evander, Gansis Naten, Marbary Naten, Sabrina Kennady, Kiproy Kennady
Killed: None
Killed by: Charlie Hill
Description: Mila was killed during the bloodbath of the 100th Hunger Games. After losing her ally Natalia Evander, Mila and the rest of the Careers circled Charlie Hill, who was trying to revive his dead sister Lauren. Charlie quickly shot Mila with an arrow and escaped the Career attack with his life. Mila's brother Hudson later went on to win the Games.
Community content is available under
CC-BY-SA
unless otherwise noted.