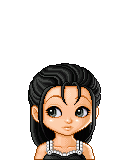 Mina Terry
Name: Mina Terry
Age: 14
Gender: Female
District: 12
Weapons: Knife, Throwing Knives
Strengths: Speed, Agility
Weaknesses: Brute Strength, Swimming
Backstory: Mina grew up very poor in District 12. Her father was handicapped from a mining accident, so her mother was forced into the mines. Then, after a mine explosion, her mother died. She has no siblings, so Mina spends her days hunting illegally with knives and taking care of her father. She wants to win the Games so she will have enough money to help her father.
Personality: Quiet, Brave, Determined, Kind
Fears: Dying and leaving father alone
Token: Locket from mother
Games
Participated In: 100th Hunger Games
Author: District3 luv
Final Placement: 1st Place
Total Tributes: 24
Allies: Cassie Lyn, Alice Marsop
Killed: Ryder Blask, Jacob Gibson, Tara Maser
Killed by: None
Description: Mina and Cassie Lyn were much closer than they were with Alice Marsop, but they still allied with her. Alice died when the trio fought Carmina Florance in the oasis. Mina killed Ryder Blask, in a brutal fight with the Careers. Then, in the final battle, she killed Jacob Gibson, who just killed Cassie, and then she killed Tara Maser. After Carmina killed Icica, Mina won with Carmina and Autumn Ace.
Community content is available under
CC-BY-SA
unless otherwise noted.