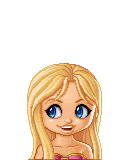 Miranda Klemens
Name: Miranda Klemens
Age: 18
Gender: Female
District: 2
Weapons: Spear
Strengths: Brute Strength, Seduction
Weaknesses: Over-Confident, Too Competitive
Backstory: Miranda has it all: looks, strength, speed, personality, and most importantly, the ability to kill. Miranda is the daughter of two previous victors who have trained her for Miranda's entire life. The Hunger Games are the only thing Miranda knows she will excel at; and she will do whatever it takes to win.
Personality: Flirty, Bubbly, Funny, Cocky, Cute
Fears: Losing
Token: Special coin from father
Games
Participated In: 117th Hunger Games
Author: Trackstar
Final Placement: 4th Place
Total Tributes: 24
Allies: Marty Jackson, Celestia Cavallo, Rick Mantully, Quid Waterson, Fleur Splith
Killed: Gamemaker (during training)
Killed by: Leo Leopard
Description: Miranda was kidnapped by Leo Leopard and Sylvie Sylvester from District 9 during the bloodbath. They tied her up and dragged her into the desert, as she was slowly untying the knots. Then, they threw her in a river, expecting her to drown, but she made it to the bare wasteland. Then, during the final battle, Leo killed Miranda with an axe.
Community content is available under
CC-BY-SA
unless otherwise noted.