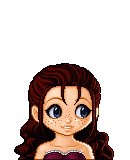 Misty Korna
Name: Misty Korna
Age: 18
Gender: Female
District: 2
Weapons: Axe, Throwing Axes
Strengths: Accuracy, Deception
Weaknesses: Confidence Issues, Hiding
Backstory: Misty's mother was very cruel to her as a child. She always put Misty down and told her she was bad at training and being a good daughter. Her father treated Misty like a princess, though, and she still got the typical Career lifestyle because of him. But her mother's words have made Misty doubtful of her own abilities.
Personality: Quiet, Caring, Kind, Humble
Fears: Her mother
Token: Picture of her and her father
Games
Participated In: 100th Hunger Games
Author: Jsm13athome
Final Placement: 8th
Total Tributes: 52
Allies: Norman Jacobe, Jennifer Vanle, Chase Amos, Emerald Silvers, Gavin Fremie, Justinain Bemus, Bianca Rose, Colin Courtai, Landon Granger, Elena Horisson, Evan Long, Aqua Lyons
Killed: Quincy Williams
Killed by: Elephant Muttations
Description: Misty allied with the Careers at the beginning of the Games. Later on, she was betrayed by fellow Career Elena Horisson, who pushed her off a ladder in an attempt to kill her. Misty survived the attack and allied with Colin Courtai from District 3. Colin died soon after, and Misty quickly allied with Justinain. Justinain was inside Misty's backpack during the elephant muttation stampede. Misty took her backpack off in an attempt to move faster without the added weight, but she wasn't fast enough. The elephants killed Justinain, and then Misty.
Community content is available under
CC-BY-SA
unless otherwise noted.