Tribute by  Kaeghan-is-a-Tribute
Mocca Hassolfer's District partner is her twin brother Caffiene Hassolfer
Information
Name: Mocca Hassolfer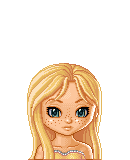 Age: 17
Sex: Female
Height: 5'7
Weapon of Choice: Throwing axe
Skills: Good climber, also fast, she is a good hunter and she is good with snares
Weaknesses: Swimming, since she wasn't able to try to swim. She isn't the very strongest so she isn't good with hand-to-hand combat
Appearence: She has the same colour hair as her brother for most part, the orangey-blonde and then she has one patch of beautioful rich red hair. She is normal height for her age and she has nice long legs. Like her brother she has freckles and her eyes are the same colour as her brother
Personality: She is more energetic than her brother and she is more kiddish, so she is always alert. She also is quiet but she talks more than Caffiene does. She doesn't really get bad that easily and so she is portrayed as a kind and gentle soul.
Backstory: Mocca was born in District 7. She has a twin brother named Caffiene. At the age of 13 her and Caffiene ran away from there home and escaped the boundries of District 7, because the electric fence wasn't active. There were many reasons that they escaped. There mother recently died from skin cancer because she worked out in the fields cutting down trees and she didn't use any skin protection. After her death Mocca's father went crazy and took everything out on the kids. He started drinking and joined a gang that did horrible things. The two kids left when one day there father was sentenced to prosecution for murder. Mocca and her brother lived in the forest for 4 years, escaping the pain of the real world and embracing nature. They learned many more skills in the forest, like climbing and poaching. One day the twins decided to come home because they had enough of the outdoors. When they did District 7 had a huge celebration of there return because the two were assumed dead. A couple weeks later peacekeepers showed up at Caffiene and Mocca's house and the head peacekeeper found out that they ran away and sentenced them to a lifetime career as an Avox. So when the time came, both tributes volunteered from the Hunger Games to escape there punishment.
Alliances: Her brother Caffiene
BB strategy: Don't go near the Cornucopia
Games
Community content is available under
CC-BY-SA
unless otherwise noted.