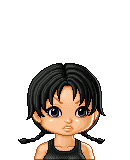 Nadia Coleman
Name: Nadia Coleman
Age: 16
Gender: Female
District: 6
Weapons: Spear
Strengths: Brute Strength, Intimidation
Weaknesses: Making Friends, Running
Backstory: Nadia is a typical bully. She's huge, muscular, and downright mean. She can pummel any kid in her grade, and is the captain of the school's wrestling team. Because of this, Nadia has no friends. She's never invited to any parties or anything like that, and she sits alone at lunch. She is not good at talking to people either. For her, actions do speak louder than words.
Personality: Mean, Cold, Short-Tempered, Angry
Fears: None
Token: None
Community content is available under
CC-BY-SA
unless otherwise noted.