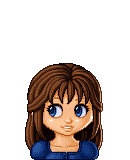 Natalia Evander
Name: Natalia Evander
Age: 15
Gender: Female
District: 2
Weapons: Sword
Strengths: Hand-to-Hand Combat, Agility
Weaknesses: Killing Others, Climbing Trees
Backstory: Natalia was not the typical District 2 citizen. She enjoyed and excelled at sword fighting, but not actually killing people. She did not want to ever participate in the Hunger Games, and prayed that her sister, Camille, reconsidered volunteering. Now, they were going in together. It was Natalia's worst nightmare.
Personality: Sensitive, Kind, Funny, Friendly, Outgoing
Fears: Having to kill someone and not have the heart to do it
Token: Mother's charm braclet
Games
Participated In: 100th Hunger Games
Author: Trackstar
Final Placement: 44th Place
Total Tributes: 48
Allies: Shamus Gartley, Josh Gartley, Drina Vox, Valentine Vox, Hudson Reboni, Mila Reboni, Camille Evander, Gansis Naten, Marbary Naten, Sabrina Kennady, Kiproy Kennady
Killed: None
Killed by: Patrick Morrison
Description: Natalia died shortly after the Games began in the bloodbath. While searching for a sword in the Cornucopia, Patrick Morrison approached Natalia with a trident and killed her from behind. She was the first Career tribute to die.
Community content is available under
CC-BY-SA
unless otherwise noted.