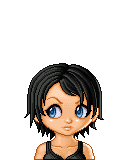 Nikita Folan
Name: Nikita Folan
Age: 14
Gender: Female
District: 9
Weapons: Throwing Knives
Strengths: Aim, Running
Weaknesses: Making Alliances, Swimming
Backstory: Nikita was born into a rough family. Her father left the family and she had five older sbilings. Her mother barely worked, and whenever her mother brought food home, Nikita and her siblings literally fought for it, because they were all so hungry. This way of life made Nikita evil, bloodthirsty, and selfish. She will backstab anyone in a heartbeat and only does things for herself.
Personality: Cold-Hearted, Mean, Evil
Fears: Lions
Token: None
Community content is available under
CC-BY-SA
unless otherwise noted.