Info
Oceania was created after Ronda Grouge was retired.
District: 4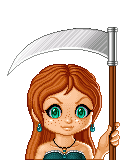 District Partner: River Blue or Blue West
Age: 16
Weapons: Trident and Net
Skills: Oceania is from District 4 so she can use a trident and net. Oceania can also swim and fish. She's a fast runner, she can climb cliffs and fight in close combat. Oceania is a wicked tribute and will fight to the death.
Strategy: Even though she had no Career training Oceania is a strong fighter and will join the Careers. Kill other tributes sadisticly and never back down. Poison the other Career's food later in the games. She'll sadisticly hunt down the biggest threats and kill them.
Token: Her earings that have oceanwater in them. Shown in lunaii.
Weaknesses: Cocky, sadistic.
Quote: None
Personality: Wicked, mean, and rotten to the core.
History: Oceania comes from a rich family who wouldn't let her train for theg ames in fear she would become a sadistic Career. At first Oceania wasn't untill her friends took her to a local training center and let her watch. After that Oceania wanted to becoame a Career so she trained by herself with tridents, nets and a knife. Not for fishing, but for killing tributes. At the age 16 Oceania thought she was ready and volunteered.