District 3:
Gender: Male.
Name: Quinton Electo
Age: 13 years old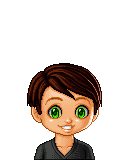 Personality: Charming. He is very popular and sometimes overly cocky. He is sometimes very funny but sometimes his jokes cross the line. On the inside he is actually very kind but he just wants to be with the in crowd. (Such a dumb insecure boy) Hopefully, he will show his true colors in the games. He is very smart but sometimes chooses to go on instinct instead on brains.
Appearance: Dark brown hair with short bangs, green eyes. 6 foot 2 inches. Very handsome. For being 13 years old, Quinton is very strong and tall and is looked at as a leader for sports.
Strategy: On the first day, he would somehow convince the Careers to let him in and he would help them the first few days. When there were under 10 tributes left and nobody saw him, he would leave them once and for all and stay by himself for the rest of the games. He would not think much of it at the time but after he was through, Quinton would not like himself for killing a fellow tribute.
Skills: Good with sword, axe, and trident. Pretty much good with any weapon that he can fight with at a short range fight, but if things got out of short range, he is strong enough that he can throw any weapon a great distance easily. His only weakness is that he might make a bad choice on instinct.
History: When Quinton was five years old, both of his parents were publicly executed for rebellion. Quinton had thought these charges were false until he was ten and left the orphanage one morning to go visit his old house. Nobody had lived in it for fear that there was some curse or something inside. (Seriously, what goes through some people's heads) In his old bedroom he found a letter addressed to himself from five years before. The letter told him, "The rule of the Capitol is not fair, now that we are gone, it is your job. Please… stop them." And now he has a chance to.