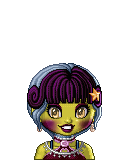 Riella Grace
Name: Riella Grace
Age: 16
Gender: Female
District: Capitol
Weapons: Swords
Strengths: Running, Likeable
Weaknesses: Camouflage, Brute Strength
Backstory: Ever since Riella was little, she's always stood out in a crowd because of her appearance. However, Riella enjoys being in the spotlight. She loves being the center of attention, but knows how to tone it down so people aren't too jealous of her. She can read people very well and change her mood and personality to make them like her.
Personality: Intelligent, Confident, Charming, Quirky
Fears: Blending In
Token: Lipstick
Games
Participated In: The 1st Alliance Games
Author: Jsm13athome
Final Placement: 27th Place
Total Tributes: 28
Allies: Olivia Bridge, Finn Dylan, Skyler Kim, Lexi Poisonsong, Henna Morasca
Killed: None
Killed by: Johnny Grey
Description: Riella was the second death in the bloodbath, and died shortly after the Games started, leaving Olivia without a partner.
Community content is available under
CC-BY-SA
unless otherwise noted.