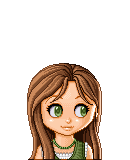 Sierra McKollins
Name: Sierra McKollins
Age: 14
Gender: Female
District: 9
Weapons: Sword
Strengths: Running, Accuracy
Weaknesses: Swimming, Brute Strength
Backstory: Ever since Sierra saw her first Hunger Games, she's wanted to be from District's 1, 2 or 4 and be a Career. She's had private training lessons with a sword and has been training since age 6. She is amazing with the sword, but that is the only weapon. She hopes to join the Careers and show them her skills.
Personality: Nice, Passionate, Competitive, Cute
Fears: Bears
Token: Green bead necklace
Games
Participated In: 56th Annual Hunger Games
Author: Nommyzombies
Final Placement: 1st Place
Total Tributes: 72
Allies: Annabel Asilium, Arianny Nai
Killed: Lewis Rye, Thalia Combe, Sparkle Zidaze
Killed by: None
Description: Sierra stayed under the radar for pretty much the entire Games. She didn't join the Careers and the Games changed her personality to a more reserved, calm, and scared person. She stayed alone until she stumbled upon the alliance of Lewis Rye, Annabel Asilium, and Arianny Nai. Out of panic, she killed Lewis and Arianny and Annabel asked her to join their alliance. She accepted, but still stayed under the radar. She did not participate in either feast. Then, during the last battle, Sierra hid near a bush and pushed Thalia Combe off the edge. When it was only her and Sparkle left, Sierra released a tracker jacker she had been hiding in her sleeve and it killed Sparkle, earning her the victory.
Community content is available under
CC-BY-SA
unless otherwise noted.