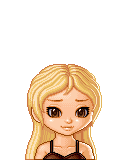 Stacey Conrad
Name: Stacey Conrad
Age: 15
Gender: Female
District: 12
Weapons: Bow and Arrow
Strengths: Hunting, Running
Weaknesses: Swimming, Running
Backstory: Stacey grew up in the richer section of District 12. Her father died when she was young and her mother was a baker. Her family owned a bakery, which her mother and grandparents ran, with the help of Stacey and her brother Felix. Stacey hunts illegally in the woods, because they rarely have enough meat for her mother, brother, grandparents, and self. She has become an expert with the bow and arrow.
Personality: Quiet, Mysterious, Strange, Odd
Fears: Leaving family to starve
Token: Shaft from arrow
Community content is available under
CC-BY-SA
unless otherwise noted.